Significant Pricing Changes
Over the past few years we have made numerous changes to our pricing strategy to better accommodate any and all sizes and types of companies. Please check Pricing to learn about a few significant changes that may be of particular interest.
An Industry Standard Since 1998
Most medium and large oil and gas exploration and production companies in Canada subscribe to EnerLink, an online database of corporate genealogy, asset transactions, production and mineral land information, directors, officers, addresses, websites, phone and fax numbers, parents, subsidiaries, partners, partnerships, trade names, aliases, and government codes. At Subscribers you can see that our clients also include numerous startups, small producers, midstream companies, energy marketers, pipeline companies, utilities, oilfield service providers, law firms, seismic brokers, land agents, data providers and government departments. EnerLink is used in many departments: A & D, accounting, mineral land, surface land, exploration, joint ventures, geophysical, legal, marketing and others. It helps identify business opportunities, improves decision making and results in significant administrative savings. Please check Features and Pricing for more information.
Blainco Energy Ventures Ltd.
550, 639 - 5th Avenue S.W.
Calgary, Alberta T2P 0M9
info@enerlink.ca
Test Us
Care to test us? Type the first 5 or more characters of an entity name in the space below. Then click Search to see the corresponding entities we have tracked, along with their ultimate successsors and jurisdictions. Individuals and asset transactions are excluded. 20+ years of meticulously entering data has resulted in 94,000+ title documents and 80,000+ entities (active/defunct/predecessor) in dozens of jurisdictions. Our coverage of entities relevant to Canadian oil and gas operations is extensive. We have been adding U.S. entities all along, but over the past year or so have started adding them very aggressively in the expectation of offering EnerLink to the U.S. market in 2019.
EnerLink Lite / EnerLink Profiles
EnerLink Lite is a slimmed-down version of EnerLink, released in January 2018. Startups and small producers can now take advantage of the most widely used EnerLink features for between $490 (no production) and $1,490 (10,000 BOE/d) per year for company-wide use. EnerLink Profiles will become available in November 2018. At that time, in addition to our existing features, we will start displaying active entities in a directory format, according to how we have classified them (services provided or basic production information). Companies who subscribe to EnerLink Profiles will be able to enhance their profiles and will have preferential placement. They will also have access to our extensive, exportable address and contact information. The cost will be only $33 per month for company-wide use. EnerLink Lite and EnerLink Profiles subscribers can apply their fees to upgrade to the full version of EnerLink anytime during the licence year. Please check Features for more information.
Popular EnerLink Screenshots and Reports
Chains Screen Precedessors, successors and asset transactions. View PDF copies of title documents. Print related reports.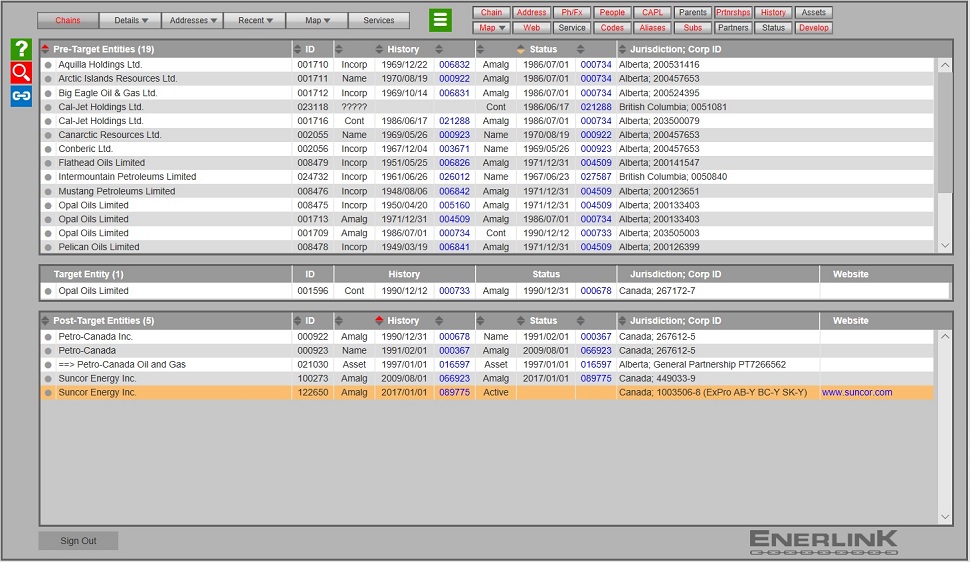 Map - Production Volumes Screen Working interest production. Search by Entity, Family, Lands, Field or Unit. Saskatchewan and B.C. to be added this year.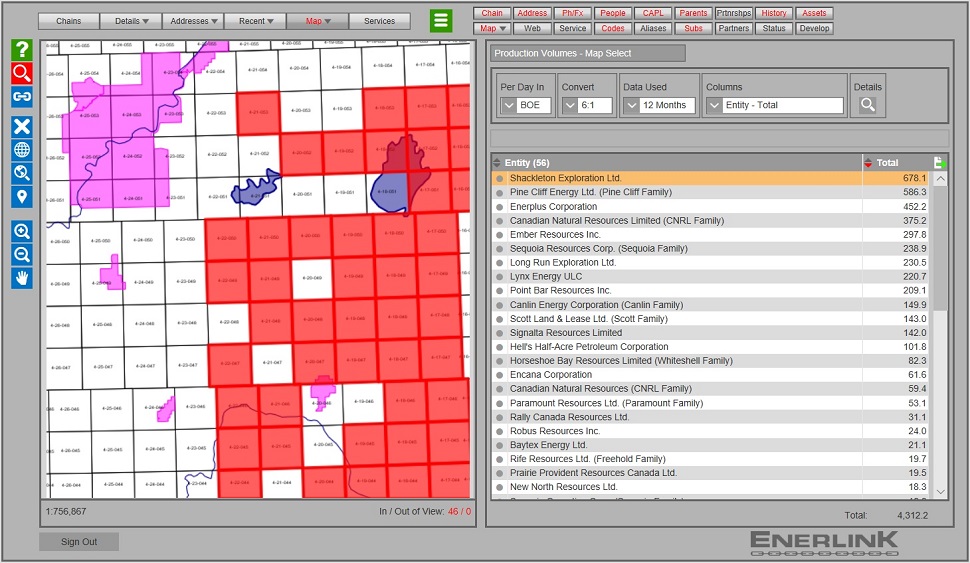 EnerLink Mineral Report For Alberta Energy and Indian Oil and Gas Agreements.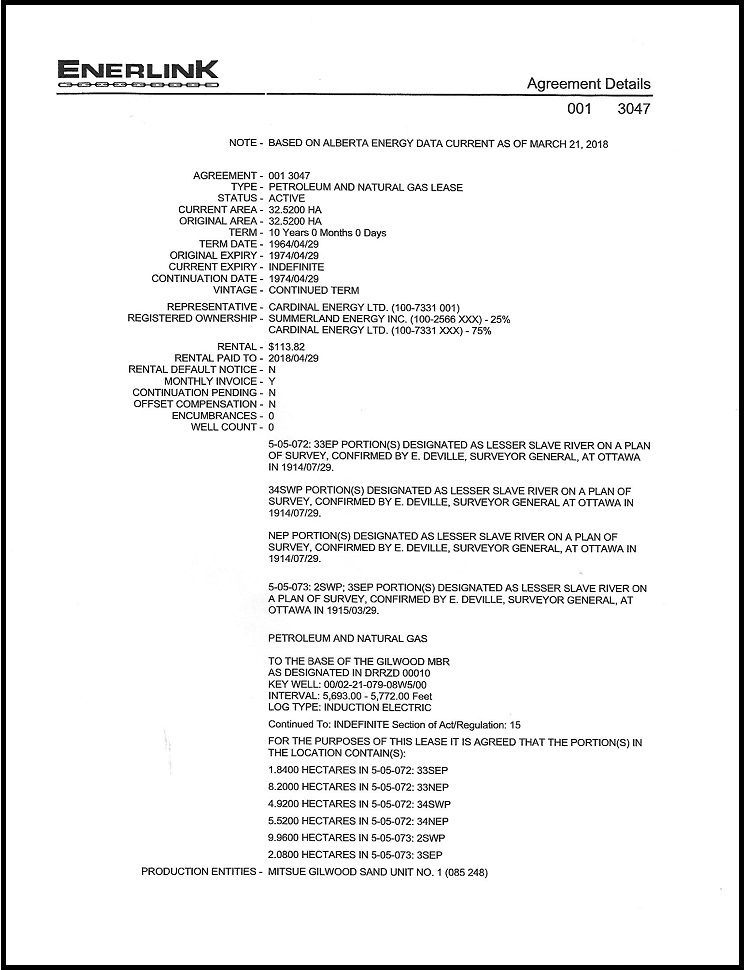 Addresses - Name Search Screen Thousands of addresses, phone and fax numbers, and websites. Data can be exported in Excel CSV format.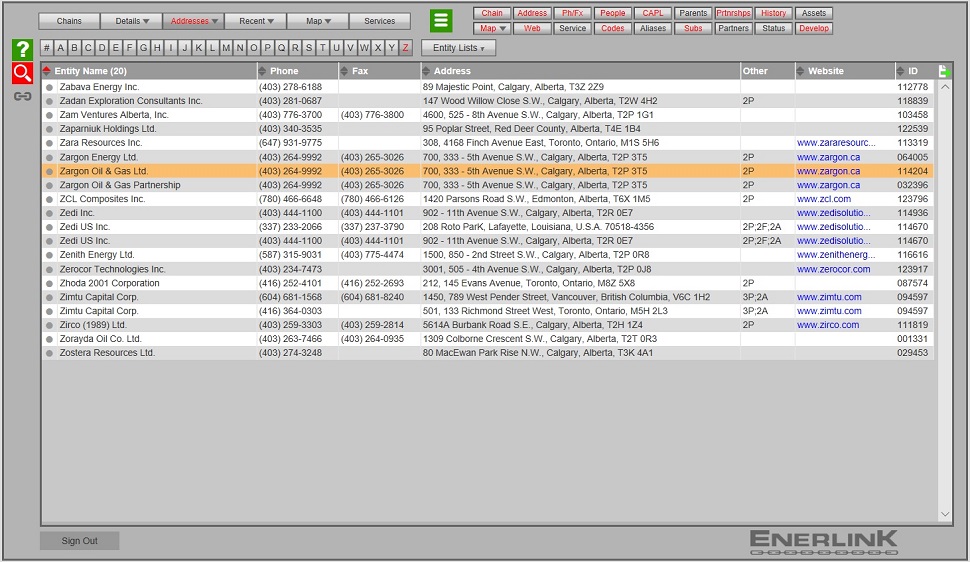 Details - Addresses Screen Detailed address information per Entity. Bottom half of screen shows related/nearby address, phone and fax information.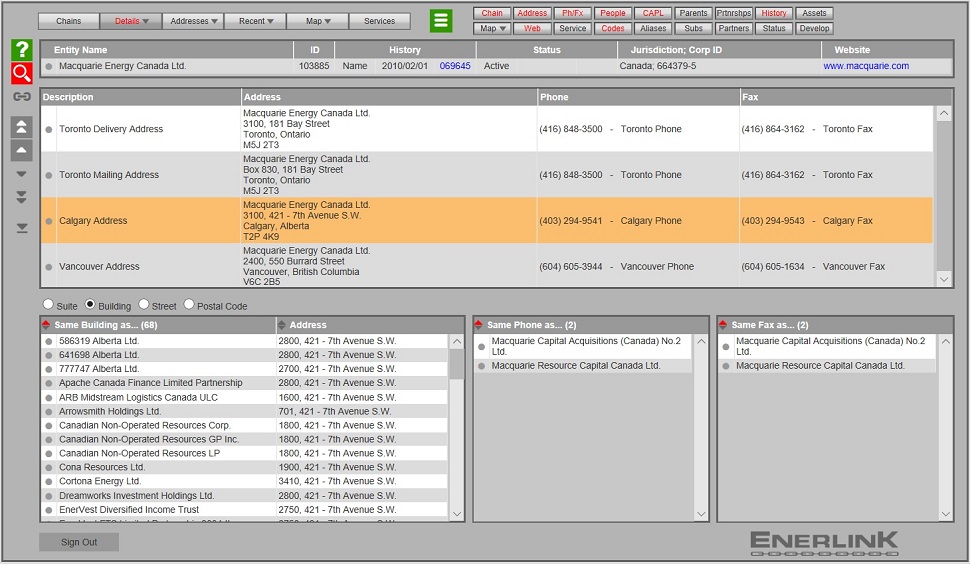 Map - Mineral Land Holdings Screen Search by Entity, Family or Lands. Drill down for Agreement details. Saskatchewan and B.C. to be added this year.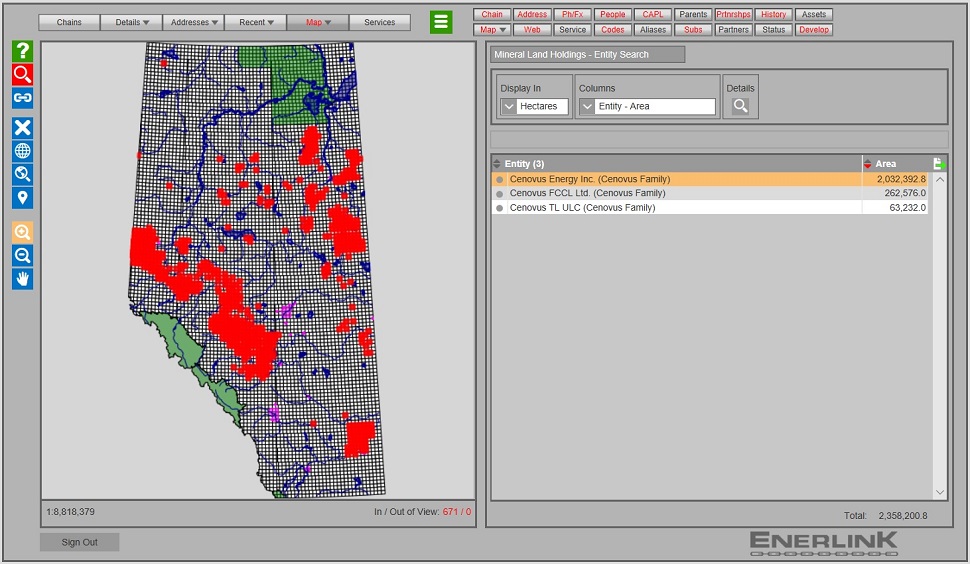 Recent Changes Screen Review title documents and parent/subsidiary relationships added to EnerLink over the past few weeks.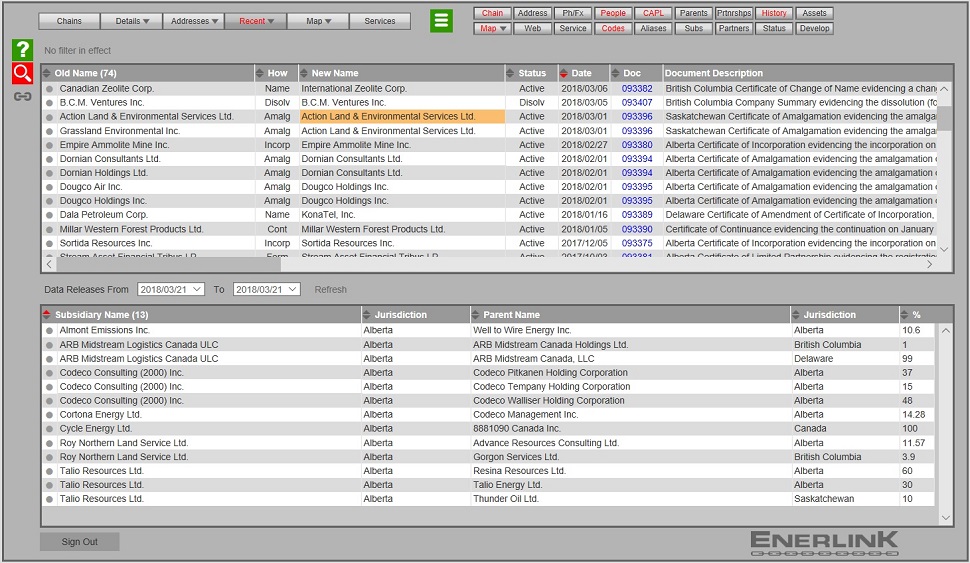 Chain View Report A graphical representation of the history of an Entity, starting from the bottom right.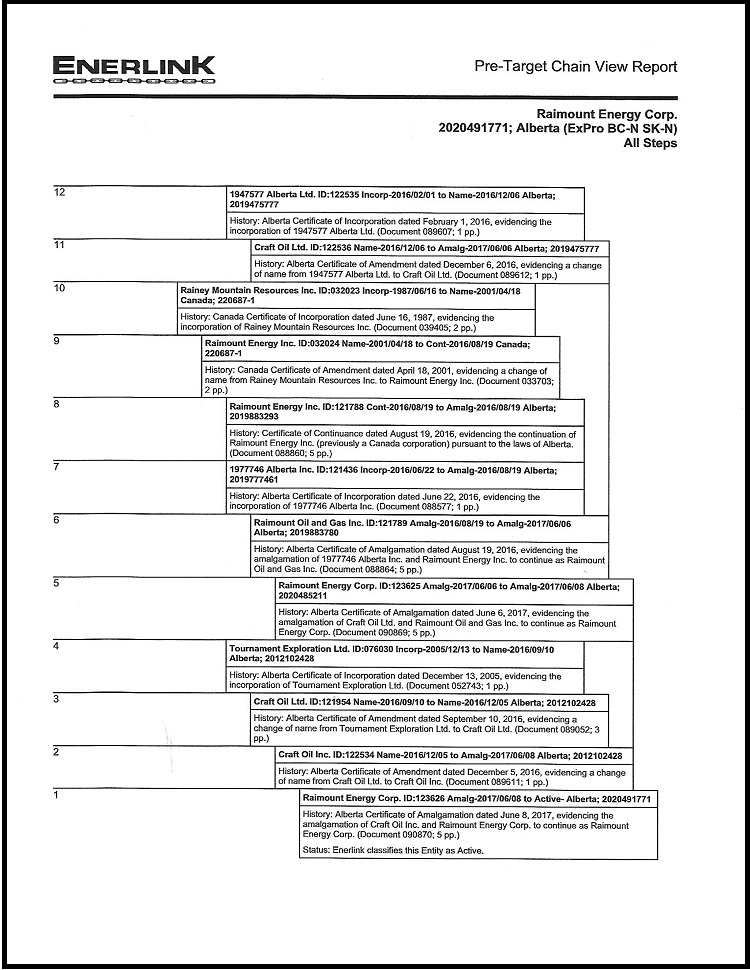 Recent Developments Screen Press releases and similar back to 2011 pertaining to corporate deals, asset transactions, receiverships, etc. Searchable by Entity.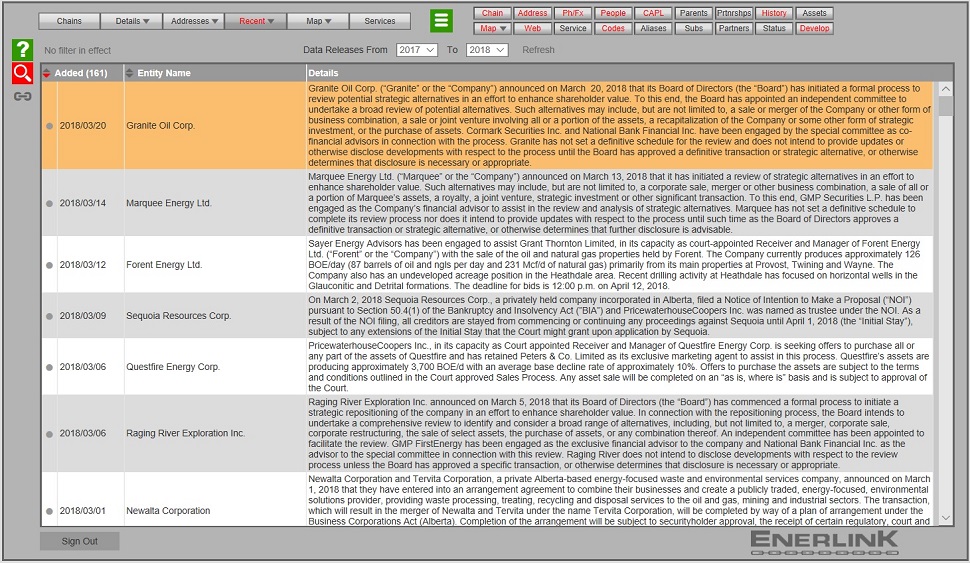 Details - Key People Screen 24,000+ directors and officers at 12,000+ companies. Bottom half shows "who works with who", for networking.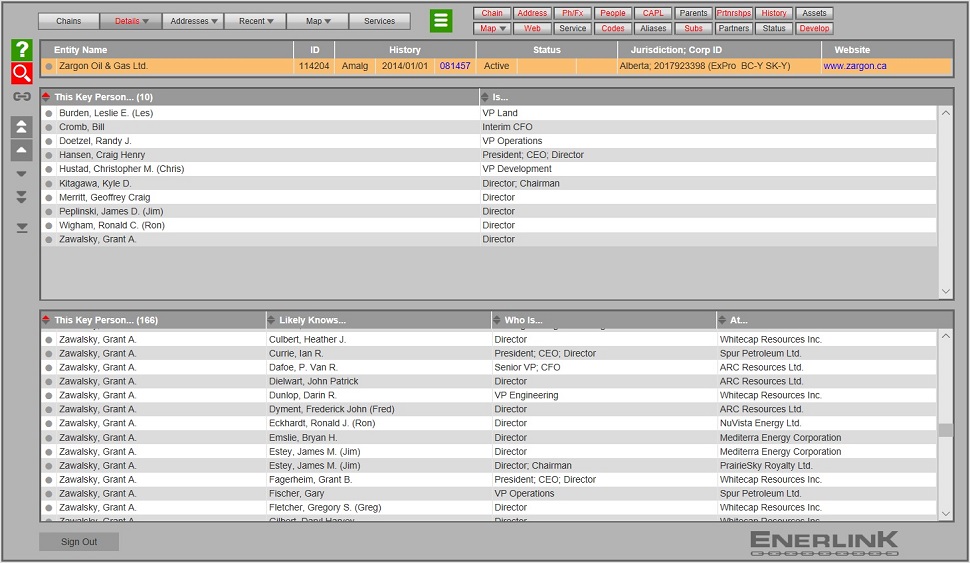 Details - Title Documents Screen History and Status title document details for an Entity. Also its asset documents, and its press releases back to 2011.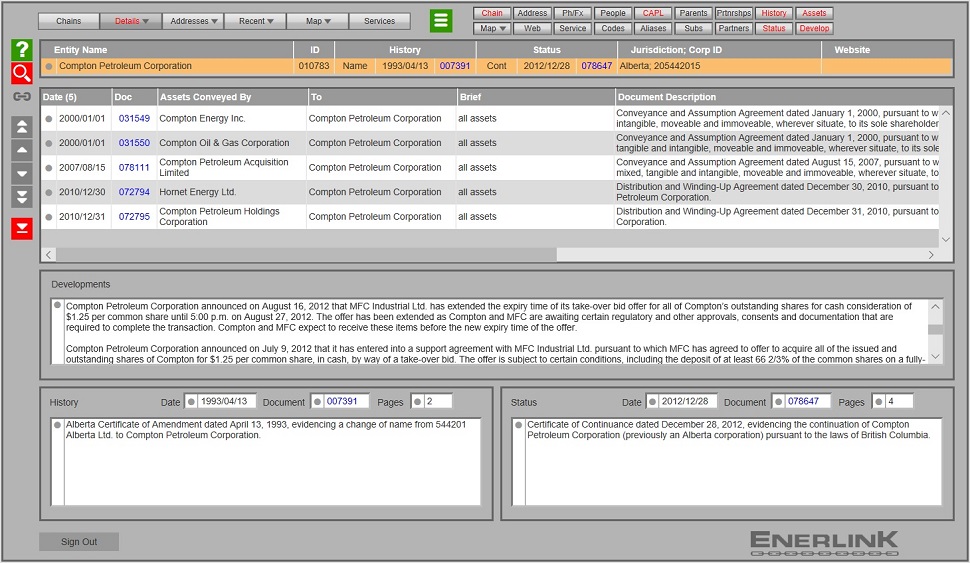 Map - Expiries and Continuations Screen Search by Entity, Family or Lands. Filter by 180, 360 or 720 days. Drill down for Agreement details.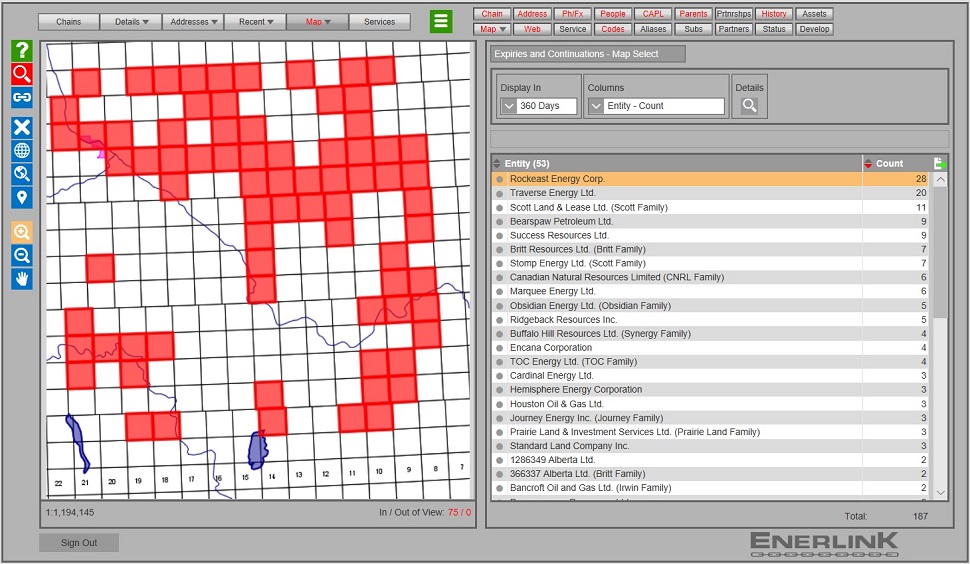 Details - Relationships Screen Parents, subsidiaries, partnerships, partners, trade names and aliases.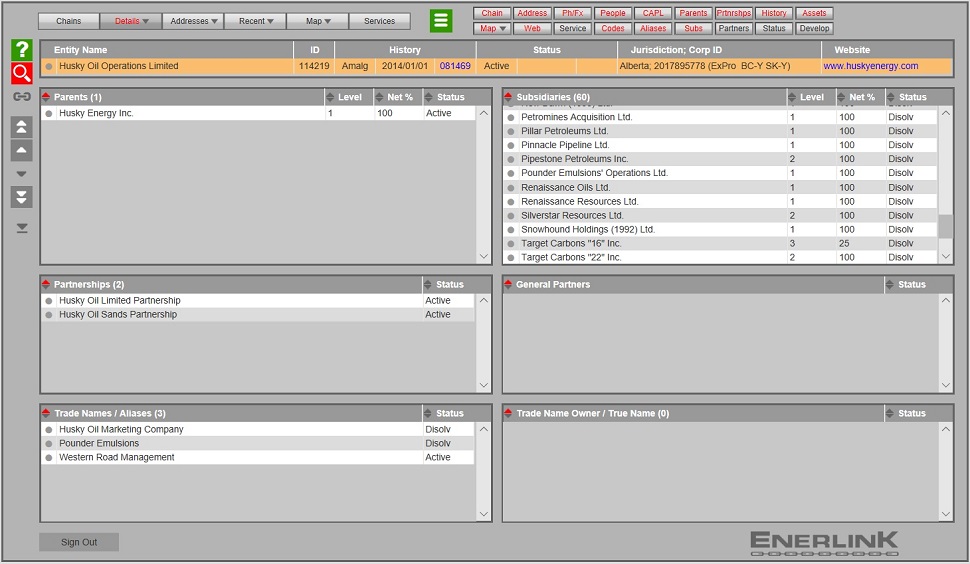 Addresses - Title Search Screen Filter by job title and location, as well as by production in BOE/d. Data can be exported in Excel CSV format.